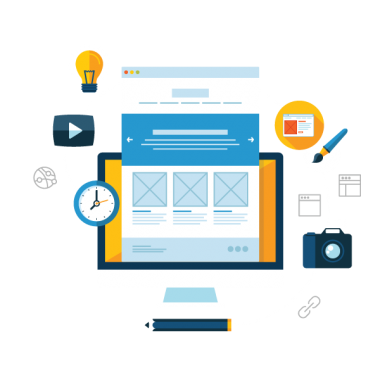 Web Design
A website must never just pull attention. The function of a website would be to entice and engage the user, and also convey your brand and then boost awareness regarding a product or service.
Your customers will not give you a second chance to make a first impression
In a digital world, first impressions are vital and an outstanding web design is the key to success. Users enjoy visiting sites that are aesthetically appealing and easy to navigate. Let our team help your site make an outstanding first impression with speed and accessibility.
Mobile applications design
Our agency will get your business noticed in the digital world by using design ingenuity for creating brand personality with a long-lasting impact. We provide various customizable design sets and focus on creating a website to fit your brand while engaging your visitors. Our team presents, revises and collaborates with you until we finalize the perfect design for your needs.
We believe that a close collaboration is the foundation for an outstanding result. Starting with content audits when we assess your needs and requirements to competitive analysis outlining opportunities, we collaborate at each step of the process.
12
Websites for TOP 500 companies
17
Complex intranets for corporations
97
Popular Facebook applications
74
E-mail marketing strategies
36
Experienced Web Development Ninjas
Every project presents its own goals, audience, and opportunities. Our approach to great projects begins with a time-tested process that discovers and addresses the unexpected.
Tell us about your project
Let us help you get your business online and grow it with passion
Thrive online — get best unbeatable interactive experience based on the smart design and innovative technology. Ready to get started?
"We were able to cover all jobs from page development and design, to customer support portals and bookkeeping with coders who provided only clean output. A service that helps companies find talent like this is obviously the difference between online flotsam and jetsam, and a web presence that consumers really want to explore." Svetlana Chobukova
CEO & Owner
"There's an abundance of Ruby, JavaScript, and HTML coders out there that have the talent to negotiate anything an online business will come up against. Fortunately, we were able to find a crew that had coding talent and spot-on vision for our growth needs. The immediate exposure evolution was exciting to watch." Daku Mckensly
CEO & Founder
"This service has proven to us that exceptional talent is possible to employ in the small online business setting. True analytics and data conversion techniques helped our company jump from key metric to key metric, while formulating a solid plan for future growth. The substance is definitely found in the data details."